Happy New Year! Back in November, 2008, I wrote a post on behalf of William Lidwell asking the readers of affectivedesign.org to submit comments and observations for possible inclusion in William Lidwell and Gerry Manacsa's new book; Deconstructing Product Design.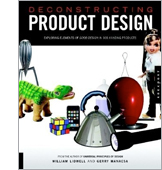 At the time, I submitted some comments and observations of my own. So I was thrilled to have several of my contributions accepted for the publication. Deconstructing Product Design features witty and insightful comments from a number of esteemed designers, including friends and peers in the industry like Jon Kolko, Dan Saffer, and Steve Portigal. I contributed comments on a number of entries, with two making it into the final publication.
Aeron Armchair
Apple iPhone
Apple PowerMac G4 Cube
Atari Joystick
Chaise Longue LC4
Fiskar's O-Series Scissors (Included in the book)
Maglite Flashlight
Movado Museum Watch (Included in the book)
Motorola Razr V3
Sacco Chair
Vespa 98
Subscribe via email or RSS for more on emotion and design.