Back in 2008, I blogged about the Swimlanes document that my colleague, Yvonne Shek and I created while I was a consultant at nForm. The Swimlanes document (which is card #12 in the UX Methods Trading Cards) won the 2008 IA Summit "People's Choice Award" at the Eight Shapes' sponsored "Wall of Deliverables".
Now, I'm pleased to announce that the Swimlanes document has been added to the Eight Shapes "Unify" system of deliverables. Retitled the "Scenario Description Swimlane", this deliverable allows project stakeholders to view the story from multiple perspectives. The diagram has a number of lanes, aligned to describe a flow of events.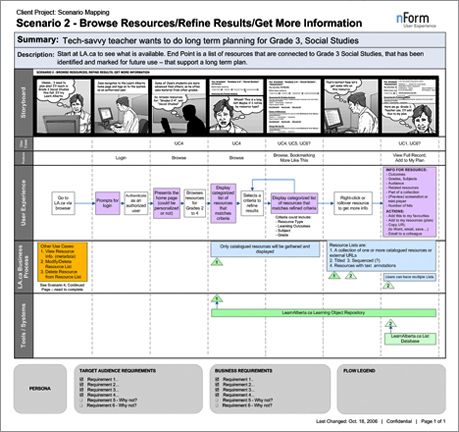 You can read more about the Scenario Description Swimlane diagram by heading over to the Eight Shapes Unify site, where Yvonne has been interviewed by Nathan Curtis about the deliverable, or check out our original post.
Subscribe via email or RSS for more on emotion and design.