Recently, I had the chance to speak with Anita Modha and Jonathan Nordrick of Vancouver-based Rollout about designing emotional experiences through their custom wall coverings. In part 1 of this interview, we spoke about their clients and the emotional experience of their work…
Co-founded by Anita Modha and Jonathan Nordrick, Rollout is a creative boutique design firm that specializes in the design and manufacture of wallpapers for retail, commercial, hospitality and residential spaces. Rollout has been designing custom wallpapers for over 5 years, creating immersive experiences for such clients as: Microsoft Zune, Ralph Applebaum Associates, 1111 Architects in Calgary, and Baccarat.
They were recently invited to contribute the wallpaper for the Mercedes-Benz Star Lounge designed by Eric Villency of Maurice Villency, for Mercedes-Benz Fashion Week in New York. Rollout creates both in-house, one-off designs for our clients and also has a stock of designer wallpapers from designers worldwide.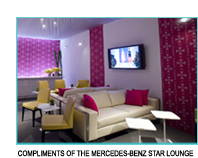 Anita Modha graduated from the Faculty of Environmental Design with a M.E.Des, while Jonathan Nodrick graduated from Emily Carr School of Art + Design in Communication Design.
TvG: Hi Anita. Hi Jonathan. Good to speak with you again.
ROLLOUT: Good to speak with you too.
TvG: Anita, can you explain to my readers exactly what Rollout does?
ROLLOUT: Rollout is a design company that focuses on the creation and manufacture of digitally printed wallpapers that are more eco-friendly than their solvent printed, vinyl counterparts.
We produce low-run and one-off designs that establish a unique visual identity for creative professionals (Architects, Interior Designers, etc.) as well as for commercial, retail hospitality and residential clients.
TvG: How many different designs of custom wallpaper have you created?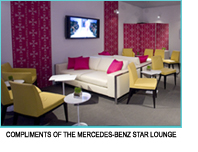 ROLLOUT: We have somewhere around 50 wallpapers. We are trying to make something new because that is the most fun time of the day, to immerse yourself in the pure act of design. We always are testing out new products like canvas, material to make lightboxes and making T-shirts.
TvG: Who are some of your more notable clients?
ROLLOUT: Microsoft Zune, Baccarat, Mercedes Benz/Maurice Villency for NY Fashion Week, Ralph Appelbaum Associates, Joey's Restaurant and a lot of other forward thinking small business owners.
TvG: Do you find that there's a connection between the personality or corporate culture of your clients and the types of wallpaper they're interested in?
ROLLOUT: Definitely. The design of the papers (whether we do a custom designer or they give us artwork to print) needs to enhance the space and really connect the brand with the people that will be using that space. The papers we create ultimately become an extension of the company's personality, reflecting what they see inside themselves and displaying to others who they are by what they surround themselves with.
TvG: Is the particular design more dependent on the type of room you're covering?
ROLLOUT: There are quite a lot of different viewer experiences and design opportunities depending on whether we are doing a feature wall, full wrap (four walls), or cubic wrap (four walls + ceiling). People are just starting to warm up again to the idea of completely surrounding themselves in bold wallpapers and this is producing some very interesting and exciting spaces.
The papers that are used in a restaurant or nightclub setting would clearly be different than those we would create for an office or company setting. People go to restaurants to eat, drink and unwind and therefore the subject matter/content of the paper and colours would aim to enhance and contribute to that feeling, where as a paper for an office space would work to create an active, inspiring, kind of environment.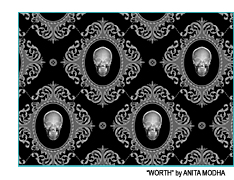 TvG: Has there been a theme that runs through your designs?
ROLLOUT: High-end design meets street level grit. Bespoke luxury. Humanistic computer precision with handmade quality.
For more of this interview, see:
An Interview with Rollout Custom Wallpaper – Pt.2

For more interviews on design and emotion, see:
An Interview with Microsoft's Edie Adams – Pt.1
An Interview with Dr. Bj Fogg – Pt. 1
An Interview with Harry Max – Pt.1
Subscribe via email or RSS for more on emotion and design.