I've given talks at a number of conferences over the years, but the 2010 IA Summit was my first time presenting both a talk and a poster.
The poster session was held on Friday evening, on the first day of the conference. This really seemed to add to the energy as everyone was energized and in high spirits after the first day. I wasn't really sure what the response to the poster would be, especially given the complex nature of the subject matter and the large number of concepts that are involved.
I presented "Emotional Design with A.C.T."; an attempt to capture the main ideas I've been thinking about for the last few years around how people form relationships with the products they purchase, use and own. Here's a shot of the poster.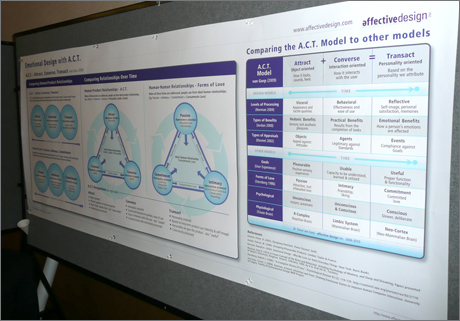 My upcoming Boxes and Arrows article of the same title explains the A.C.T. model in more detail, so if you're interested in building stronger relationships between the products you design and their users, be sure to check it out.
Subscribe via email or RSS for more on emotion and design.
For more on emotional design models, see:
"Design for Emotion and Flow" at the 2010 IA Summit
Understanding Design for Emotion Models
Affective Design Theory